Gibraltar Based Computer Training & Examination Centre specialising in Microsoft, Sage, CompTIA, ITIL & IC3 Training & Certification

EasyPay Gibraltar Payroll & HR Software

EasyPay is the result of over 10 years experience in the field developing and supporting payroll software throughout Gibraltar. To date it remains the most comprehensive payroll and Human Resources software package available for Gibraltar business.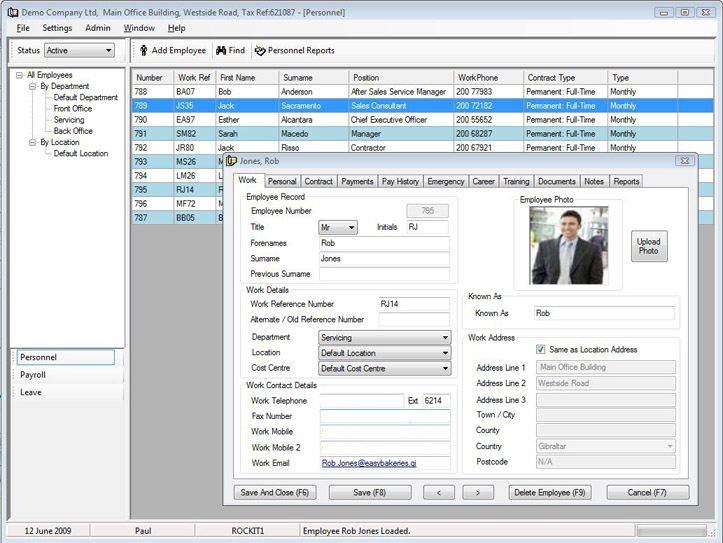 The software contains many unique time-saving features and automates most of the mundane tasks associated with carrying out a payroll. The software was specifically developed to address the need for a more accurate, easier and less labour intensive way to do the payroll. It has over the years evolved to meet the growing needs of businesses in Gibraltar.

First and foremost, EasyPay enables users to effortlessly create and manage payslips for employees. The software is streamlined to make it quick and intuitive to produce each payslip. The logic for tax, social insurance and other government legislation is built into the software, so payroll officers can produce payslips without needing to remember or manually make adjustments to cater for Gibraltar's unique and quirky regulations.

The system is very widely used and handles the very diverse range of payroll income and deduction types that exist in many different types of industry.

For example, it is tried and tested with Retailers, Hotels, Law companies, Construction companies, Accounting practices, Payroll Bureaus and Banks. Please contact us for references for a particular industry.

The system was recently upgraded to include the latest changes for the End Of Tax Year 2008. The software is regularly updated and features an automatic Internet update facility. Updates are regularly and automatically delivered to customers to keep them up to date with the very latest changes in legislation. Our development team are in constant contact with the social insurance and tax departments, ensuring that any upcoming changes are introduced as soon as possible.

The software includes a fully integrated and comprehensive personnel records system. A fully integrated leave management system is included to track entitlements for different types of leave for each employee.

There are also facilities to record training undertaken and to maintain career / disciplinary records. This is particular interest to companies regulated by the FSC, who as from 2007, now have a legal requirement to ensure such information is kept up to date.

The software is designed to run across a network and multiple staff can access the same database at the same time. The database is secured and an integrated user manager tool controls access. Security is role based, which is ideal for larger companies where there are different people performing different roles such as payroll, HR and leave management.

The system can manage multiple companies within one central database, allowing for comprehensive reports that draw information
from multiple companies at once.

EasyPay is compatible with all versions of Microsoft Windows from 2000 through to Vista. Based on SQL Server technology it
offers a fast, flexible and comprehensive way to manage large amounts of employee information. Whether a small company of 5 employees, or an enterprise of 1000s, EasyPay can help!

Key Features At A Glance
Payroll Features

* Extremely easy to use.
* Pay Monthly, Weekly, Fortnightly or Four Weekly


*

Handles all types of worker: casual, salaried and contract workers.


*

Accurately calculates Gibraltar Government tax automatically.


*

Accurately calculates Social Insurance automatically according to the latest changes. Including time taken off.
* Supports recurring transactions, so HSA, Pension and other payments are automatically added to the payslip each month.


*

Multiple payslip formats. E.g.

Distribute

payslips on preprinted paper

,

blank paper

or encrypted email.




* Fully customisable and flexible list of payslip transaction types.




*

Keeps payroll history online indefinitely for reference or reprinting.


*

Prints comprehensive payroll reports and charts for management and accounting.


*

Produces standard Government forms for submission to ETB and Tax. E.g. P8, P7a


* Produces standard forms and letters for submission to the Spanish Tax Authorities.




*

Tried and tested across a wide range of companies in different industries including


Retail, Banking, Construction, Accounting, Hotels and Legal sectors.



Human Resources

Features



* Keep comprehensive employee information at your finger tips ranging from key personal

details to contract information.


The employee record is extremely comprehensive, recording vital information needed across a wide range of industries.




*

Leave tracking system automatically tracks leave entitlement for each employee. For

example, track time taken off on


annual leave, maternity, sick or unpaid leave.


*

Keeps your training records online to record training courses undertaken by each employee

for periodic review.


*

Store career records such as appraisal meetings, promotions, bonuses, disciplinary

notes, etc. for future reference.


* Store a checklist of documents on file for each employee.





Accounting

Features

* Integrates with leading Accounting Systems such as Sage Line 50 and Sage Line 100, saving duplicated work.
* Produces detailed Nominal Postings reports.
* Ability to preview accounts postings, prior to posting them to accounts.
* Exports to numerous payment systems, e.g. Barclays ICE, Natwest Bankline.

Other Features



*

Easily handles multiple users

,

multiple companies, multiple departments, multiple locations and multiple cost centres.
* Integrated security manager controls who can access the system. Security is role based. Ideal for larger organisations,
where the roles of payroll officer, HR officer and Leave management are separated.
* Time saving features for Payroll bureaus, with features such as "Copy Company" and "Annual Inflation" routines.


* Integration with time tracking systems such as Sage Job Costing.




*

Based on fast, robust and secure Microsoft SQL Server technology.


*

Fully compatible with all versions of Microsoft Windows from 2000 through to Vista.


*

Easy

and quick to setup

. An optional import facility makes it simple to import your employees from your existing system.

Comprehensive Support

* Regular updates from dedicated development team ensure latest tax and SI changes

are delivered as they happen.


New features and reports are added every month. These updates are delivered automatically over the Internet with the
minimum of hassle.
* The most comprehensive support package of any software product on the Rock!
Comprehensive Reports

EasyPay has a wide range of accounting, payroll and human resources reports.

It produces all the reports a payroll officer will need to carry out the payroll.

It also produces all the essential forms required for submission to the Gibraltar Income Tax office, Employment & Training Board and Social Insurance departments.

EasyPay produces a number of management reports, which include statistical and historical reports which can summarise information on multiple companies. This is particular useful for larger groups of companies, accountants and payroll bureaus.

In a typical payroll system, year to date figures and payslip information are deleted on completion of the tax year end. EasyPay is different. It stores all your payslip data for all your previous years. Reports and forms can therefore be reproduced for any previous year. This is extremely useful, because the Law requires companies to keep up to 7 years of payroll information on file.

All reports can also exported to Word, Excel, PDF or Microsoft Access formats for further analysis.
Sage Accounting

EasyPay offers integration with leading accounting systems such as Sage Line 50 and Sage Line 100. Automated integration with your accounting system means that payroll transactions are posted automatically to your accounting system at period end. This can save a lot of duplicated work.

The additional accounting integration facilities are very flexible and easy to use. There are also nominal posting reports and the option to preview postings before effecting the changes in your accounting system. Unlike typical payroll systems, nominal posting reports and exports can be produced at any time for any accounting period.

Training Tailor Made have been supplying and supporting Sage products for over 5 years and will be happy to advise on the best solution to meet your requirements.


EasyPay

EasyPay is priced solely on the size of the database that the company will need. i.e. number of employee records required.

There is no additional charge for the number of companies required, or for the number of people who will need to use EasyPay in your organisation.

There is an initial purchase cost, with a recurring annual subscription fee. The annual subscription fee is charged pro-rata and runs from 1st July through to 30th June the following year.

Annual subscription includes the EasyPay license, basic payroll support by email and all software upgrades at no cost within the subscription period. In addition you receive prioritised support and our promise to be available to assist ASAP and ensure that the payroll software is always running.

Please call for prices

EasyPay Training Courses

We run regular training courses for EasyPay at our training centre. The standard course is one full day, at a price of £195 per delegate. Courses can be tailored to your needs and number of delegates.

To book a place on the next available course, please contact Dilip Tailor on 20078714.